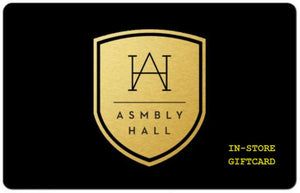 Asmbly Hall
ASMBLY HALL GIFTCARD- IN STORE USE
ASMBLY HALL IN-STORE GIFTCARD . Something special for that someone special! Available in increments of $25, $50, $75 and $100.
TO BE USED IN-STORE ONLY!

In-Store Giftcards are redeemable for merchandise at our physical store location: 624 Divisadero Street, San Francisco
Within 24 hours of giftcard purchase, we will email an E-Gift Certificate along with instructions for redeeming merchandise in our store, or we can send to your recipient the old-fashioned way-- by mail!
Giftcard sales are excluded from current online promos and do not expire.
All giftcard sales are final and non-refundable.
For any additional giftcard inquiries, please don't hesitate to reach out to us at info@asmblyhall.com.